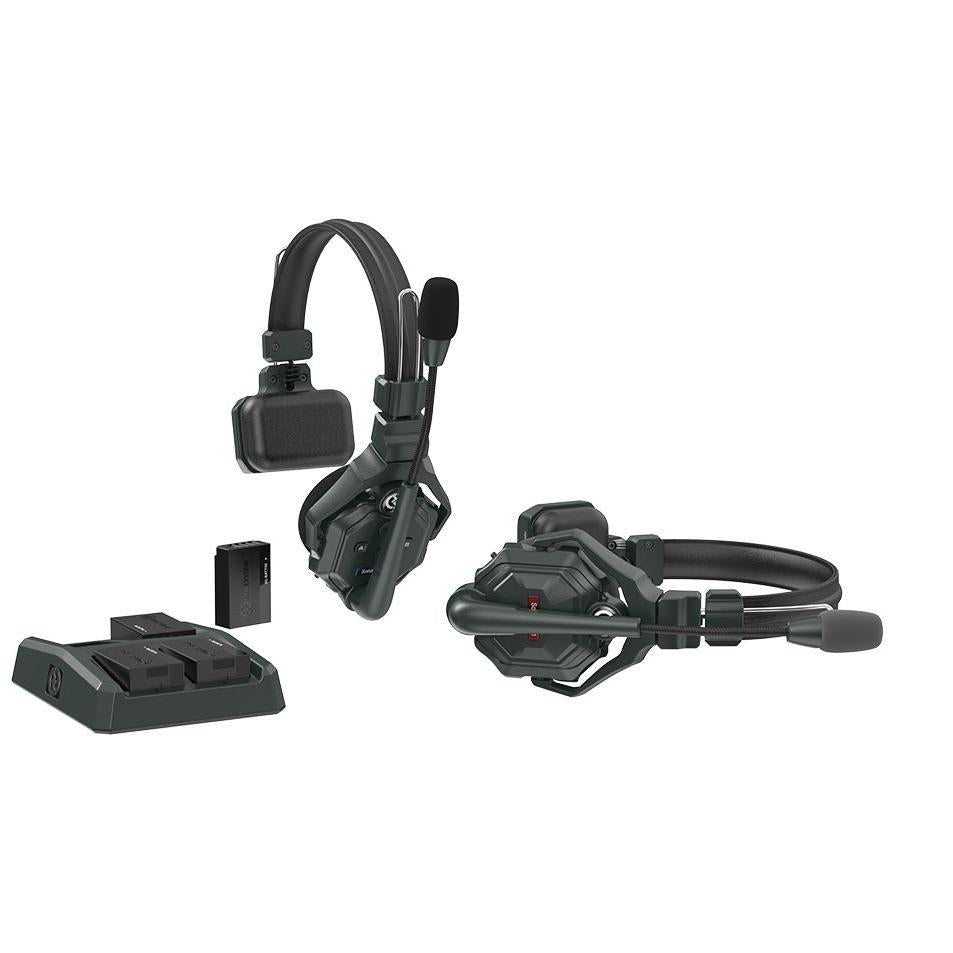 150Hz-7KHz wideband frequency response for clear audio
True wireless headset, no bodypack
168g lightweight, comfortable to wear all day long
1000' 2-way operating range
DECT 6.0 for stability and security
Instant pairing, easy to use
Premium acoustic echo cancellation
Rechargeable batteries and charger included
2/3/4/6/8 headset package options
Mic boom up/down for easy talk/mute control
Hollyland's first true wireless and self-contained headset communication solution with exceptional sound clarity
Take a closer look
The Solidcom C1 full-duplex wireless intercom headset system includes advanced DECT 6.0 technology. It's a true wireless and self-contained headset communication solution with exceptional sound clarity. The system operates in the 1.9GHz band, providing a reliable transmission range up to 1,000ft (350m) radius (LOS).
Self-Contained Headset for 2-Way Communication
With no beltpack or base station, the C1 offers a portable and hands-free experience. It's perfect for production teams and others looking for real-time voice communication at distances up to 1000
Wide Frequency Response for Precise Coordination
The C1 ensures clear intelligible audio with 150 Hz to 7 kHz frequency response and premium acoustic echo cancellation (AEC). The directional mic captures the speaker's voice precisely, making conversations easier even in noisy environments.
Enhanced Stability and Security with DECT 6.0
Built on the powerful DECT 6.0 platform, the Solidcom C1 ensures secured conversation with encryption technology. It also provides reliable transmission featuring a dual-antenna diversity scheme.
Ready to Use Right Out of the Box
The headsets pair up automatically and feature tactile buttons for quick adjustments. The microphone boom on each headset rotates 360°. This allows left or right orientation and easy Mute/Talk switch by a simple push up/down.
Expandable System
The Solidcom C1 system allows you to link up to 5 remote headsets to the master headset without using a hub. The C1 HUB base (available separately) allows up to 8 headsets to be used at once.
Rechargeable Batteries for Extended Working Time
Each headset runs on a single rechargeable battery, and comes with a spare lithium battery for convenient field replacement, keeping systems up and running with minimal downtime.