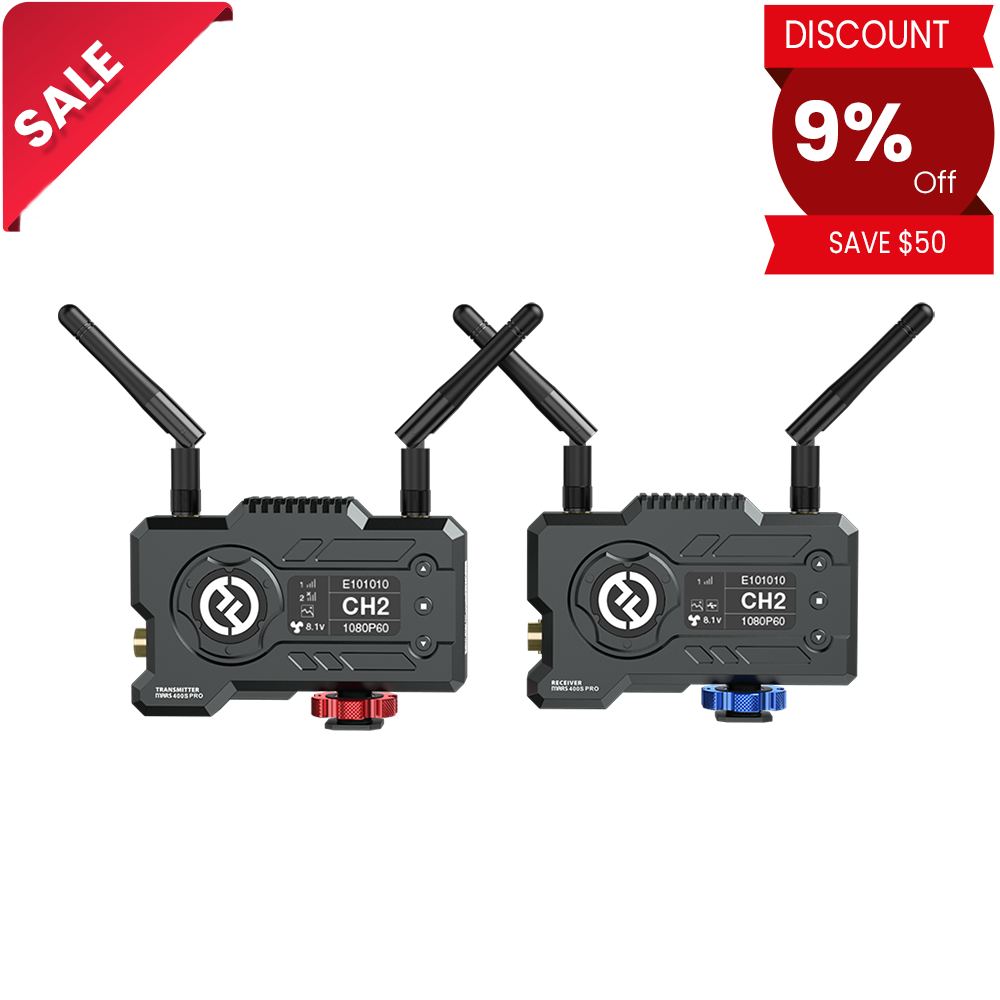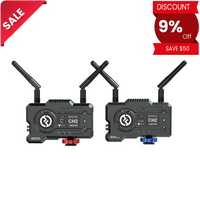 Transmits up to 2160x1080/60p video at 12Mbps bitrate
400' LOS transmission to receiver, 300' LOS to APP
HDMI and SDI inputs & outputs
Bright OLED display for a quick status check
Transmit to one receiver and two apps, or to four apps
Power via L-series battery, DC adapter, or USB Type-C input
Integrated shoe adapter with 1/4"-20 mounting thread
Optional channel scan firmware to find the strongest signal (install via HOLLYVIEW APP)
This wireless system transmits up to 1080p60 SDI or HDMI video allowing you and your clients to conveniently watch a video's production
Take a closer look
Add up to 1080p60 wireless video transmission to your gimbal and mirrorless or DSLR camera rig using Hollyland's Mars 400S PRO SDI/HDMI Wireless Video Transmission System. The transmitter provides HDMI and SDI inputs. The receiver offers SDI and HDMI outputs. Everything is build lightweight and druable.
Next Level Wireless Video Transmission
With a brand-new design, 12Mbps ultra-high bitrate, SDI & HDMI dual ports, and other features built for professional filmmaking, the MARS 400S PRO brings video transmission to the next level, empowering filmmakers, crews, and content creators everywhere.
0.1S Latency & 400' Line-of-sight Transmission
With transmission distances of up to 400ft and latency of less than 0.1s, the transmission stays uninterrupted even if the studio is as big as a soccer field, and you can see the video immediately from far away. And up to 300' to the Hollyview Wi-Fi app.
SDI & HDMI Dual Ports
With the classic SDI+HDMI dual ports, you can choose either port for input or output. Be it a DSLR, mirrorless, or professional camera, simply connect it to the transmitter. And the receiver can output video via both the SDI and HDMI ports at the same time.
3 Cooling Modes Available
3 cooling modes are available: Auto, Low, and Off. The higher the fan speed, the lower the temperature of the device casing. The fan produces very low noise rated less than 55dB. You can choose a cooling mode that meets the needs of your shooting conditions.
1 Transmitter X 2 ReceiversEfficient Monitoring Made Easy
One transmitter can work with up to two receivers. So, the system allows two parties (director, producer, lighting control, etc.) on the shooting site to simultaneously monitor the shots with high picture quality at 12mbps data rate and ultra-low latency.
Intelligent Channel Scan
The optimum channel is automatically selected after powerup with no manual selection required. For manual setting, you can easily identify any interference-free channel for connection with the smart channel scan feature.
Multiple Power Supply Options
Power can be supplied by NP-F battery, power bank/USB charger with a Type-C plug, or DC adapter, ensuring continuous power supply in all kinds of situations.
Easy Monitoring Via Mobile Devices
The system supports monitoring with the HOLLYVIEW app on your mobile device.
The APP acts as a monitor and provides nine auxiliary functions: brightness histogram, frame marking, and zooming. You can connect up to four mobile devices for monitoring simultaneously, if solely via the APP.